Republic Day To Highlight Harmonious Gujarat
By Reema, Gaea News Network
Monday, January 24, 2011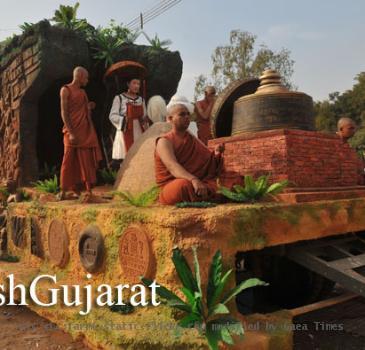 more images
VADODARA, INDIA (GaeaTimes.com)- Gujarat will be taking full effort on this Republic Day, in order to campaign in favor of peace and well being in the state. After the vibrant Gujarat Summit, the state has been charged to project itself as the advocate of peace and unity.
To start with, the Gujarat Government tableau will depict the "Buddhist Heritage in Gujarat" at the Republic Day Parade in New Delhi. The Republic Day tableau has been designed in a way, so that it beautifully portrays the age old heritage of Buddhism in the state. It would display the statues of Lord Buddha, inspired from that of Dev-ni-mori. These statues are marked with typical Buddhist "Mudras", in which the lord sits for meditation. The other elements the tableau would consist of are, "Interi Pithika" and a statue of Chinese traveler Hiuen Tsang. The other end of the Tableau would also have a replica of "Khambhalida" cave with sculptures of Buddha, Varadtara, Dharanmata and Vajrapani. In a way, this tableau may best be described as the epitome of peace and harmony that was advocated by Lord Buddha several centuries back, and was gracefully violated by the state during the Gujarat Riot.
However, now it seems that the state is desperate to rectify its image in front of the nation, as even in its domestic front, the RSS will launch the Sampark Abhiyaan door-to-door campaign from the Republic Day. RSS chief Jayanti Bhadesia said that they have launched this campaign to sway away the suspicion from people's mind, that the party is linked with terrorist activities. Apart from door to door campaign, the party members would also conduct mass meetings in various parts of the state, in an attempt to gain back people's confidence and establish its harmonious intentions. In a very peaceful way, the party would also enlighten the people about the current scenario in Jammu and Kashmir and would talk about their plans of establishing Ram Janmbhoomi in Ayodhya.