Food Corporation Of India Woes
By Arnab Ghosh, Gaea News Network
Wednesday, August 4, 2010
more images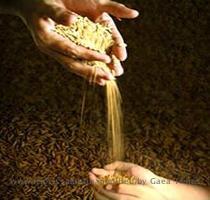 more images
BIHAR, INDIA (GaeaTimes.com)- The ruling UPA government and the opposition parties in India are engaged in the tussle on price rise issue but the endeavor of the government to sell wheat in open market has met with lukewarm response. The small traders are simply not interested to buy wheat from government as the price set by the Food Corporation of India is steeper than the existing wholesale prices for wheat at all major places in the nation. Two months back Finance Minister Pranab Mukherjee along with the Empowered Group of Ministers allocated 50 lakh tonnes of wheat meant for open market sale to tame price hike. However, the effort has proved to be futile.
The Food Corporation of India has also come under fire since the news of a huge amount of food grain rotting in its godowns in Bihar has hit the headlines. A FCI official admitted the news. The wheat and rice amounting to 4 ton were kept in the open for lack of covered space in the Darbhanga godown of FCI. The Managing Director of FCI Sita Chowdhury told the media that the people responsible for this fiasco will be brought to book.
The news of Food Corporation of India distributing rotten food grains has alarmed the ministry and the news agencies have also expressed their shock and dismay over the issue. The price of the essential food grains continue to rise. The FCI has been accused of selling rotten grains and also supplying same grains to PDS centers. The [poor lot of the population are the worst sufferers.