Flood In Delhi: Government On Tenterhooks
By Arnab Ghosh, Gaea News Network
Wednesday, August 25, 2010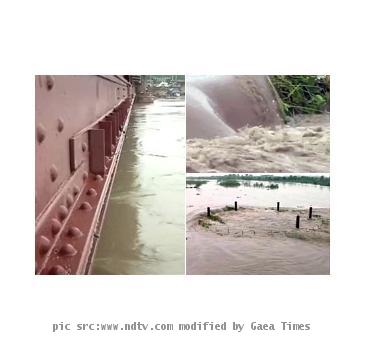 more images
DELHI, INDIA (GaeaTimes.com)- The Delhi Government is on tenterhooks owing to the overflowing Yamuna river that may cause flood in the capital anytime. As per the latest news the river is now flowing over the danger level and in a shot while the low lying areas near its bank can become inundated. Today morning the river was flowing almost a meter on top of the danger level and this has made the residents worried. It has also been reported that the excess water from the river has started entering certain parts of the city.
The possibility of flood in Delhi depended today morning as river water entered the Tibetan monastery market. It is likely that areas like Nigambodh Ghat, Usmanpur and Sonia Vihar will be flooded if the river continues to rise. The low lying zones have been evacuated as a precaution. The shopkeepers are a worried lot to. If the flooding happens the market will have to be closed down. This will result in huge losses for them and the price of the commodities will also shot up in no time.
The heavy downpour may also worsen the situation. It may also hasten the flood in Delhi. The major drains in the city have been closed. This has led to water logging in certain streets in Delhi. The situation is not likely to improve as the met department has predicted heavy downpour in the coming days. The government is keeping a close watch on the situation and the weary residents are hoping that the raging river will not swell further in coming days.