Lillian McEwen Speaks About Clarence Thomas
By Madhusmita, Gaea News Network
Saturday, October 23, 2010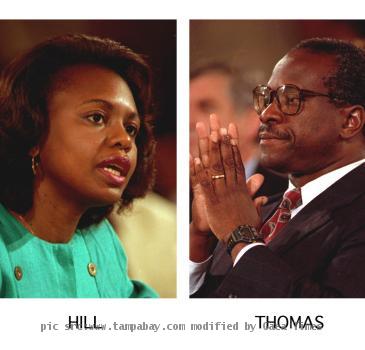 more images
WASHINGTON (GaeaTimes.com)- Lillian McEwen, the former girlfriend of Justice Clarence Thomas in one of her recent interviews made a shocking statement when she said that she supports Anita Hill and her testimony. Lillian McEwen said in one of her interviews to a reputed media source that Clarence Thomas was obsessed with pornographic movies when they were in a relationship. Early this week Clarence Thomas' wife Virginia Thomas send a voice message to Anita Hill asking her for an apology to her husband. However, Anita Hill called this voice mail "inappropriate" saying that she does not to intend to apologize and she stands by her testimony.
Lillian McEwen said that previously she did not speak about her career because he had to think about her career as well. However, after her retirement she feels that she has nothing to be afraid of. While speaking about Clarence Thomas she said that he was obsessed with "porns" and he used to watch women who worked with him to find out who could be his potential partner. She also said that Clarence Thomas used to speak about the pictures ands scenes from the pornographic magazines and videos that he used to watch.
Lillian McEwen told in her interview yesterday that she completely stands by Anita Hill's testimony as she feels the latter did not tell a lie. Anita Hill accused Clarence Thomas by saying that the latter described her scenes from porn movies graphically. However, Clarence Thomas denied all the allegations calling the whole incident to be a "high-tech lynching". However, Lillian McEwen said that the Clarence Thomas is certainly capable of doing the things that Anita Hill complained about.