Yusuf Islam Performs In Rally
By Tias, Gaea News Network
Sunday, October 31, 2010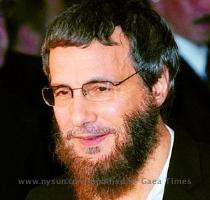 more images
WASHINGTON DC (GaeaTimes.com)- Folk singer Yusuf Islam performed in the Rally To Restore Sanity on behalf of the pro-sanity part of the rally headed by Jon Stewart. The singer received huge cheers from the crowd but was interrupted by Stephen Colbert, who led the pro-fear part of the rally. With rock legend Ozzy Osbourne on stage, fans witnessed history as the two stars literally had a duel fueled by the fight between Jon Stewart and Stephen Colbert.
Yusuf Islam has also been in and out of the news for the Salman Rushdie-Satanic Verses controversy. Back in the 80s the singer had commented right after his conversion to Islam that Salman Rushdie must be killed. He went on to say that instead of burning the effigies, he would have liked to see the real thing. He also said that if the famous author would have turned up for help at his residence then he would have surely notified the main man behind the fatwa against Salman Rushdie.
Yusuf Islam had, however, over the years tried to cover up his comments by saying that he had been misinterpreted by the media. He explained that he was merely mentioning the laws in the Quran which said an insult to the prophet should only be punished with death. He also said that in one of the interview he was merely being sarcastic about the matter and the media failed to get the humor. Salman Rushdie said in a written statement to the media that he was convinced about the fact that Yusuf Islam wanted him dead and no amount of defending by the singer could prove otherwise.