Army Ten-Miler Race Takes Place
By Swatilekha Paul, Gaea News Network
Monday, October 25, 2010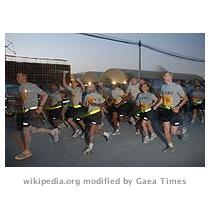 more images
WASHINGTON (GaeaTimes.com)- For defending champion Alena Reta it was surely a dream come true. The Ethiopian athlete clinched victory at the annual Army Ten-Miler race which was held with much elan on Sunday, October 24. Expectations were running immensely high from Alena Reta as he had won the race last year as well when the event was held on October 4. However, the athlete was successful in fulfilling the expectations as he became the first person to finish the race within a time period of 47 minutes and 9 seconds.
Following his victory, Alene Reta told the large number of journalists who had gathered to cover the event, that winning the Army Ten-Miler race made him feel extremely good while noting that he was able to give his best due to the warm weather that prevailed throughout Sunday. Apart from the Ethiopian athlete, things also went in favor of Army Capt. Kelly B. Calway who participated in the women's category of the race and went on to win it. The Army Captain who is currently stationed at Fort Carson, Colo was able to finish the event in 57 minutes and 20 seconds.
As many major streets of Washington D.C. were closed intermittently due to the Army Ten-Miler race on Sunday, commuters in the city had to go through a harrowing time while the event on its way. However, the city dwellers were surely not complaining as the Army Ten-Miler is one of the much-anticipated events to take in Washington D.C. The event is the largest ten-mile race which takes place in the month of October each year and witnesses the participation of athletes from around the globe.