Freshers Welcomed Without Ragging
By Sayanee, Gaea News Network
Thursday, July 22, 2010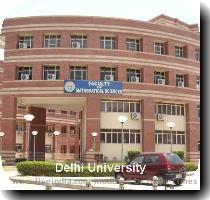 more images
NEW DELHI, INDIA (GaeaTimes.com)- Day 1 for freshers at the Delhi University was a happy day. A far cry from the days when a newcomer was welcomed to class by dominating seniors waiting to rag them, the new anti ragging policy has been a blessing for all who want to pursue a degree from the renowned Indian university. This year though was all the better considering that the freshers were welcomed with roses, new bus routes for the North campus and anti ragging slogans.
However even though it seem unlikely that any ragging will take place inside the campus, the freshers cannot be sure about the same in hostels. Speaking to the media, one fresher from Ramjas says that he is apprehensive of what he will face upon entering the hostel, where monitoring ragging activities becomes very difficult. With the Commonwealth Games just round the corner, the hostels of Delhi University are presently shut down for renovation work in its campus.
On their first day at college, freshers at Zakir Husain were welcomed to their institution by seniors who performed to a play "When will we ever learn" based on anti ragging activities. Though reports have not been confirmed, there is news that in spite of several colleges adopting strong steps against ragging within the campus, freshers at Hans Raj College did face the brunt and the police and college staff had to intervene to break free a group which was trying to rag two freshers. The entire North campus of Delhi University showed the presence of armed police personnel and riot control vans to stop ragging activities from taking place.