Philadelphia Marathon Draws Huge Crowd
By Tias, Gaea News Network
Monday, November 22, 2010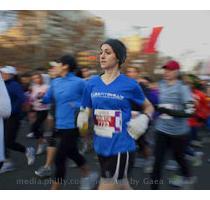 more images
PHILADELPHIA (GaeaTimes.com)- More than 20,000 runners and 40,000 spectators, the Philadelphia Marathon turned out to be a bigger event than the organizers and the media predicted. Not only was the crowd unprecedented, but the race itself was a full of drama. The event was full of moments that the audience and even the runners could cherish for the rest of their lives. Among some of the runners who made the news, there is the 23 year old couple, Bryan Pitcairn and Katy Pellani. As the race neared its end, Bryan Pitcairn suddenly went down on his knee and proposed to his love Katy Pellani. He took out the ring that he was carrying throughout the race and explained how much he loved her.
The Philadelphia Marathon had runners coming in from far and wide and some of the elite athletes were also seen participating in it. There were the usual set of first-timers, the regular and also those who ran only for fun. The length of the full marathon was around 26 miles and there were many who opted for the half.
Another touching story at the Philadelphia Marathon that surfaced on the media is that of 12-year old Madeline Resnic. The teenager keeps a track of the clothes discarded by the runners during the course of the journey and then donates them to the homeless. For three years, she with her family and friends have been collecting the discarded clothes and distributed them in the shelters for the homeless with the help of the charity group that they founded called 'Clothes-Pin'. They said that on Sunday they collected 12,000 articles of clothing which will reach the charity center by the end of the day.