Minneapolis Airport Shut For Snowstorm
By Arnab Ghosh, Gaea News Network
Sunday, December 12, 2010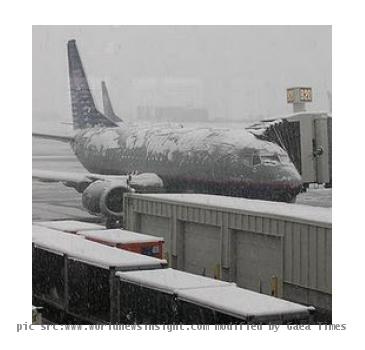 more images
MINNEAPOLIS (GaeaTimes.com)- The incessant snowfall and accompanying blizzard forced the authorities to shut down operations at the Minneapolis Airport on Sunday and this led to a huge number of flight cancellations. The passengers were stranded at the airport and the weather office also did not give any positive news. The airport cleaning crew simply could not keep the runway free of snow and the runways became unoperational despite their best efforts. There was no way any plane could land and take off from the airport. It is not only the passengers who have to suffer for the airport closure and snowfall. The New York Giants were slated to reach Minneapolis by plane to play the game against the Vikings. Their flight was made to divert and they are now at Kansas City. The game timing may be changed and the chances of it getting canceled cannot be ruled out either.
The Minneapolis Airport authorities made it clear that the passengers should keep checking the website of the airport to stay updated on future flight cancellation as well as delays. The airport closure happened for the first time since 1991, said the airport authorities. Delta Airlines was forced to cancel as many as 400 flights taking off and landing at the airport. The passengers were told they will get the chance to re-book the tickets.
The Minneapolis Airport spokesman Pat Hogan informed that at Saturday morning 4 runways were functioning. However, the blizzard made things worse which finally led to the shutdown of all the runways in the airport. To minimize the inconvenience of the commuters, the airport authorities canceled several flights in advance.