Nikumaroro Island In Spotlight
By Arnab Ghosh, Gaea News Network
Saturday, December 11, 2010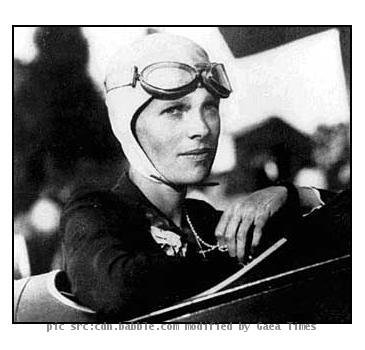 more images
NIKUMARORO (GaeaTimes.com)- The International Group for Historic Aircraft Recovery which is a non profit entity has claimed that the bone fragment found in the remote island of Kiribati in Nikumaroro could actually belong to missing pilot Amelia Earhart. The legendary lady who set a number of records in non commercial aviation sector in her life disappeared under unexplained circumstances near the remote tropical island in Pacific Ocean. It was in 1937 when she had set on a mission to fly around the earth and that proved to be her last flight. On July 2 1937 the ill fated Lockheed "Electra" aircraft disappeared and she could not be traced anywhere. It is generally agreed that her plane nose dived into the ocean after fuel shortage. However, the detractors of this theory have said that she could have landed on some island and later died.
The 73 year old mystery could be resolved if the DNA tests find the finger found in Nikumaroro belonged to a human and not any other animal. The International Group for Historic Aircraft Recovery has been making trips to the remote island for several years. The bone sample has been sent to the Molecular Science Laboratories of the Oklahoma university. The team claims that they have come across several evidences and artifacts that indicate the missing pilot possibly landed at the island.
TIGHAR thinks that Amelia Earhart probably landed at Nikumaroro and also managed to stay alive for some months. Later she might have succumbed to disease or starvation. It is possible that she could not communicate to the outer world after landing there.