Kannada Sahitya Sammelana Kicks Off
By Reema, Gaea News Network
Friday, February 4, 2011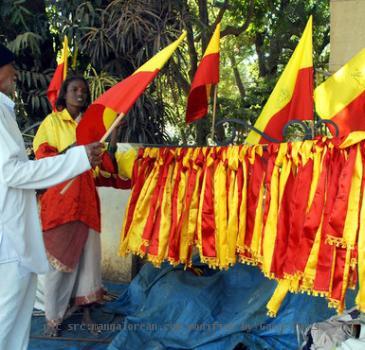 more images
BANGALORE, INDIA (GaeaTimes.com)- Bangalore is all set to host the 77th Akhila Bharata Kannada Sahitya Sammelana that started from today. The three-day event will aim to promote Kannada literature and culture. The government has persuaded each and every theater located in the city, to play only Kannada movies only, for the next three days, and the theaters have complied to this request.
G Venkatasubbaiah, the president of the event said that since 1930, the state has transformed a lot in terms of culture and other realms of life. In another ten years, the state would witness more transformation. Akhila Bharata Kannada Sahitya Sammelana will focus on this transformation. T N Vasudevamurthy, a lecturer of Carnatic literature said that the approach and perspective of literature has also transformed a lot in the last few decades. From the "author-centered" theory, to modern "reader-response theory", the approach of literature has come a long way. The inaugural ceremony will start with the a procession, where many intellectuals from Karnataka will participate. The three-hour procession will start from JC Road, to cover places like Minerva Circle, Kondaji Basappa Circle, to end at National College Grounds. The estimated number of people to participate in the procession has added up to almost 50,000, which itself proves the success the event will demand in the next three days. Not only human, but also elephants and camels will take part in the procession to highlight the rich cultural heritage of Karnataka.
More than 15 roads will be decorated with flowers, huge arches and Karnataka flags to give the city an adorned and elaborate look. However, Akhila Bharata Kannada Sahitya Sammelana will take place at the National college Grounds, when the procession concludes. Poet Jaraganahalli Shivashankar feels that this would be the perfect opportunity for the 68 lakh non-kannadiga people, to know more about the culture and literature of the state.