Kala Ghoda Festival To Kick Off
By Reema, Gaea News Network
Friday, February 4, 2011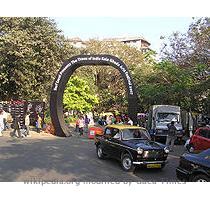 more images
MUMBAI, INDIA (GaeaTimes.com)- Last year the Bombay Municipal Corporation accused the Kala Ghoda Association of defying the noise pollution laws. They even dragged the association to the Mumbai High Court for the same reason. Nevertheless, the high court has ordered the association to conduct the Kala Ghoda Festival this year, without the usage of loud speakers.
The Kala Ghoda festival will start from February 5 to continue till February 13. However the Kala Ghoda Association is determined to make the event a bigger success, by resorting to other means and completely avoid any noise oriented nuisance. Pallavi Sharma, a member of the association said that the theme of the event will be "One World" and they have tried to showcase "different cultural experiences" from every nook and corner of India and all over Spain. As they cannot use loud speakers any more, they will conduct several unplugged events on the streets. Leila Tayebaly said that the unplugged event will portray "fantasy world of dreams and nightmares", with the usage of several visual effects and generous use of colors. Jamsheed Kanga feels that although the high court has banned the use of loud speakers, it has only worked in their favor, as this time, they citizens will be treated with more visual delight.
The Kala Ghoda Festival is an annual art and cultural festival that is held in the Mumbai in the month of January or February. This year, there would be more than 400 event, that would cover every realms of life including music, dance, art, drama etc. There would be special event dedicated to the children too, so that they can explore their artistic skills through canvas painting, origami and sculpture.