Martyrs Day Being Observed Today
By Reema, Gaea News Network
Sunday, January 30, 2011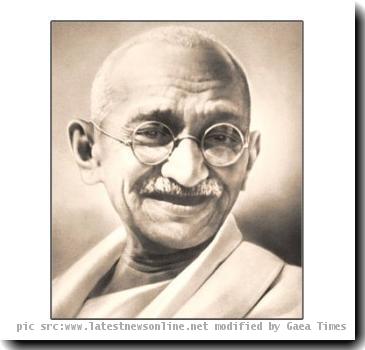 more images
NEW DELHI, INDIA (GaeaTimes.com)- Today marks the 63rd death anniversary of the Father Of Our Nation, and India is celebrating the Martyrs Day to pay full tribute to Mahatma Gandhi, who sacrificed his life for the betterment of our country, resorting to the peaceful means and ideals he once advocated.
Martyrs Day is being celebrated in almost each and every Indian state in their own way. Although this day is not regarded as a national holiday, people observe the day with peace, to pay an ode to Mahatma Gandhi's non-violent ideals. New Delhi is all set to conduct a peaceful march against corruption to observe this day. This march will start at the Ramlila Maidan at 1:00 p.m and will finish at Jantar Mantar. The march will mark the participation of personalities from all walks of like, Kiran Bedi, Swami Agnivesh , Sri Sri Ravi Shankar to name a few. Similarly, prayers and other cultural programs have been organized at Gandhi Smriti, the museum that is solely dedicated to the Father of The Nation. More than 500 children, from several NGOs, schools and orphanage will perform in the museum to recall the great national hero. Divya Sarisir, a fourteen year old participant said that their school has been rehearsing for the last 12 days to perform for the event. She takes pride to have got the opportunity, to pay a tribute to Mahatma Gandhi.
Similarly, in Rajkot, the Martyrs Day will accentuate the significance of cottage industry. A very unique fashion show, "Khadi Vastra Paridhan Utsav" will be organized at the Race Course ground. Models from Mumbai and Delhi have been invited to walk the ram in khadi outfits to promote the importance of this fabric in the Indian economy and thereby boost its market. Since Khadi was popularized by the Martyr himself, Martyrs Day is the perfect occasion to take his effort a step further.
Filed under:
Featured Article
,
India
,
Society
Tags:
"Khadi Vastra Paridhan Utsav"
,
Gandhi Smriti
,
India
,
Kiran Bedi
,
Mahatma Gandhi
,
Martyrs Day
,
New Delhi
,
Race Courseground
,
Sri Sri Ravi Shanker
,
Swami Agnivesh