Mumbai Marathon 2011 Concluded With Success
By Reema, Gaea News Network
Monday, January 17, 2011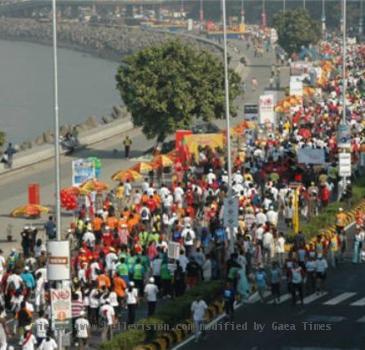 more images
MUMBAI, INDIA (GaeaTimes.com)- Mumbai Marathon 2011 kicked off yesterday. Although none of the winners hailed from India, most of the participants had a good time in running the race. However, it was not just about running and making it till the end. It was more about, fun, enjoyment, charity, and addressing social issues and causes.
Mumbai Marathon 2011 was sponsored by Standard Chartered Bank. Sources say that this time the Marathon was better organized than the preceding marathons in the city. There were refreshment and water counters in every intervals, where the tired runners could charge them up. The weather was also pleasant enough to pump up the spirit of Marathon. Craig Fernandes, a student who participated in the race said that it started about thirty minutes before the scheduled time. He added that the temperature was quite a pleasant one with 19 degrees. However Milind Nagre, 49, who reached the end line in just two hours, said that although the weather was good, the only problem that he faced was lack of light. Since the sun rose quite late, he felt that there should have been more street lights in Bandra, as he had to run in the dark.
Debal Dutt, the head of international communication of brand and sponsorship of Standard Chartered Bank said that Mumbai Marathon 2011 was based on two important pillars- fitness and charity. According to him, the motive of charity helped in connecting with the people of Mumbai. Perhaps that is the reason for which youngsters like Aaryan Bijurkar, 8, (youngest runner) did not move back from running with his father, Kedar Bijurkar in the race. Similarly, elderly people like Govind Parab, 92, (the eldest runner) did not feel hesitant about taking part in it. Mumbai Marathon 2011 started with 38,000 runners, out of which 2,800 were first timers.