Makar Sankranti Breather For Onion?
By Arnab Ghosh, Gaea News Network
Thursday, January 13, 2011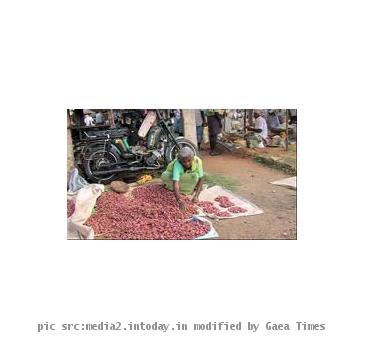 more images
DELHI, INDIA (GaeaTimes.com)- The residents of various states of India including the Northern ones are worried whether the price of onion would go down before the festival of Makar Sankranti. In a breather to the residents of the Indian capital the Delhi onion traders agreed to call off the strike after the CM assured them that appropriate measures will be taken. The traders in some of the top Delhi wholesale markets decided to go on strike after countrywide income tax raids were carried out. The traders who have shops at Gazipur, Okhla and Azadpur Mandi demanded that the raids would be stopped. They also met Sheila Dikshit the Delhi CM at her residence.
CM Sheila Dikshit said that she will look into the matter and ensure they do not get harassed. As of now, the onion is selling at approximately INR 60 a kg. They told the CM that the cost of onion would go down once fresh stocks arrive during Makar Sankranti. Meanwhile the central government has pointed at unseasonal rainfall for the unexpected rise in onion price. However, the market veterans are of the opinion that the flood in Pakistan is the root cause behind the crisis. In some places of the country onion is still selling at INR 70 per kg. Earlier, the government said that by Jan 14th the price rise of onion will be curbed.
During Makar Sankranti fresh produce arrives in various markets and after that the onion price is expected to go down. Bijender Singh the NAFED chairman said that new crop has began reaching from Gujarat and Maharashtra in recent times.