Monitor Lizard Back In Home!
By Arnab Ghosh, Gaea News Network
Thursday, January 27, 2011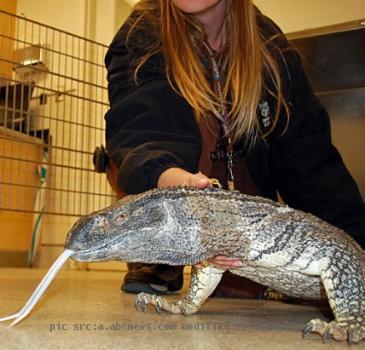 more images
RIVERSIDE (GaeaTimes.com)- A large sized Monitor Lizard named Elmer escaped from his home in California's riverside a few days back and after making the residents in the region scared the reptile is now relaxing back at his owner's home. The reptile is a friendly lizard but its appearance is frightening for some people and a number of residents panicked after they saw Elmer walking around on Tuesday in the streets. The cops were informed soon and they netted the creature with aid from the Riverside County Animal Services staffs. The Black throated Lizard was liked by all at the animal shelter owing to his docile temperament and manners and he was returned to his owner Tom Casarez Jr. The reptile escaped while his tank was being cleaned.
The owner and his family members were highly tensed as they had thought people might injure their beloved Elmer thinking him to be ferocious. The father of Elmer's owner reiterated that Elmer is a very friendly pet, his menacing looks notwithstanding. He even said that he thinks Elmer as his grandson. The reptile also loves to watch TV with him. The Riverside County Animal Services checked his tank and said it was ok for the Monitor Lizard. They said the animal did not create any trouble at the shelter as such.
The owner of the Monitor Lizard Elmer is planning to make their 4 legged pal a small condo for staying in near future. They said that the pet survives on rats but has a penchant for candy bars and jell-o. The large creature also gets along with their pet cat Stupid said the owner.