Cabrini Green Building Closed Down
By Madhusmita, Gaea News Network
Thursday, December 2, 2010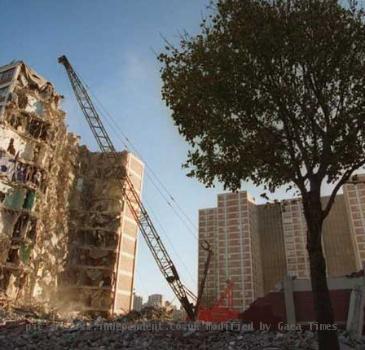 more images
CHICAGO (GaeaTimes.com)- A federal judge ordered on Wednesday that the last two families living in infamous Chicago housing complex Cabrini Green should move out of the building within 10 days. This order will allow Chicago Housing Authority to move forward with their demolition plans. The final seven families, who were staying in the building agreed to vacate it much before, however, when the moving truck arrived, two families backed out of the deal and refused to leave the building. It seems that after Wednesday's order Cabrini Green's last building would be closing down, which was the center of violence in Chicago for many generations.
The media outlets reported that the Chicago Housing Authority had asked for an emergency closure for Cabrini Green building from the court. The court documents read that the buildings were unsafe and it was dangerous to keep only two families in a 15 storey high rise building which was made to shelter 134 families. CHA claimed that it was a burden to maintain services, heat and security and hence the remaining two families also should move out of the building. When on one hand Mayor Richard J. Daley was blamed for overseeing the full development of high rises, his son current Mayor Richard M. Daley is leaving no stones unturned to relocate those buildings and tear them down.
Media sources have reported that 134 storey Cabrini Green building would be demolished either in January or in February. However, to the residents of the building, the relocation seems very stressful as they are simply unaware what would be the future. The Chicago Housing Authority released a statement on Tuesday which stated that they would continue to work with the remaining two families soon.