Bishop Arthur M. Brazier Dies At 89
By Swatilekha Paul, Gaea News Network
Saturday, October 23, 2010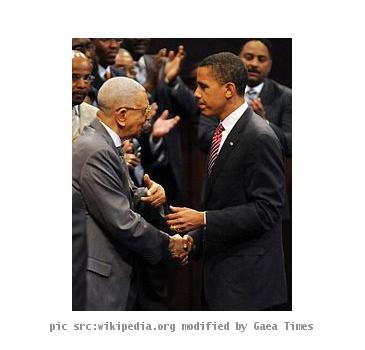 more images
CHICAGO (GaeaTimes.com)- Bishop Arthur M. Brazier who is known to have led the Apostolic Church of God in Chicago for 48 years prior to his retirement in the year 2008, died on Friday following a five year long battle with prostrate cancer. During his association with the Apostolic Church of God in the Woodlawn community of Chicago, an estimated 20,000 people became its members which is a record of sorts. The news of his death has come as a rude shock to his large number of followers who are still grappling with the fact that their much-loved bishop is no more.
Following Bishop Arthur M. Brazier's demise, in a statement, his son Rev. Bryon Brazier said, "We will indeed miss him" while adding that his life with all its dignity and grace would always be celebrated by everyone who have had the opportunity to know him. United States President Barack Obama also issued a statement reacting to the unfortunate demise of Bishop Arthur M. Brazier describing him as one of his 'dear friend and one of the country's leading moral rights.' President Barack Obama also emphasized that no one can ever replace the gentle heart and boundless determination that community activist brought to some of the most challenging issues of the country.
A Second World War veteran, Bishop Arthur M. Brazier established the Woodlawn Organization way back in the year 1961 while he was working with well-known community organizer Saul Alinsky. Over the years, the Apostolic Church of God has been a hot spot for campaigning politicians despite the fact that Bishop Arthur M. Brazier also always voiced his opposition for preaching politics from the pulpit.