3 remain of original Navajo Code Talkers but only 1 able to still tell story
By Felicia Fonseca, AP
Sunday, August 29, 2010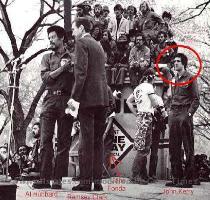 more images
Original Navajo Code Talker still tells his story
ALBUQUERQUE — Tourists hurry inside a shop here to buy books about the famed Navajo Code Talkers, warriors who used their native language as their primary weapon.
Outside, on a walk sheltered from the sun, nine of the Code Talkers sit at a table autographing the books. Each is an old man now. They wear similar caps and shirts, the scarlet and gold of the Marine Corps, and turquoise jewlery.
One of these men, who signs his name as Cpl. Chester Nez, is distinguished from the others. Below his signature, he jots down why: 1st Original 29.
Before hundreds of Code Talkers were recruited from the Navajo Nation to join the elite unit, 29 Navajos were recruited to develop the code — based on the then-unwritten Navajo language — that would confound Japanese military cryptologists and help win World War II.
Of the Original 29, only three survive. Nez is one.
The Code Talkers took part in every assault the Marines conducted in the Pacific, sending thousands of messages without error on Japanese troop movements, battlefield tactics and other communications critical to the war's ultimate outcome.
"It's one of the greatest parts of history that we used our own native language during World War II," Nez said in an interview with The Associated Press. "We're very proud of it."
Nez tells the story succinctly. He is the last of the original group to be able to do so. One can hardly speak or hear and the memory of the third is severely tested by Alzheimer's disease.
The 89-year-old Nez is limited, too. He is in a wheelchair after diabetes led to the amputation of both legs. These days, he'd rather "just sit around, take it easy," he said.
As a boy, Nez lived in a traditional Navajo home and helped his family tend to sheep in Two Wells on the eastern side of the vast 27,000 square-mile reservation.
He played with matchbox toy cars, went barefoot, and spoke only his native language. That changed when he was sent to one of the boarding schools set up by the federal government to assimilate American Indian children into the broader culture.
At boarding school, Nez said he had his mouth washed out with soap for speaking Navajo — ironic indeed, considering the vital role that the unique language — and Nez — would come to play.
Nez was in 10th grade when a Marine recruiter came looking for young Navajos who were fluent in Navajo and English to serve in World War II. He jumped at the chance to defend his country, and to leave boarding school. He kept the decision to enlist a secret from his family, and lied about his age, as did many others.
"I told my roommate, 'Let's try it out,' and that's what we did," Nez said. "One reason we joined is the uniform — they were so pretty, dress uniforms."
About 250 Navajos showed up at Fort Defiance, Ariz., then a U.S. Army base. But only 29 were selected to join the first all-Native American unit of Marines. They were inducted in May 1942.
After basic training, the 382nd Platoon was tasked with developing the code.
There Nez met Allen Dale June and Lloyd Oliver, among the others. Using Navajo words for red soil, war chief, clan, braided hair, beads, ant and hummingbird, for example, they came up with a glossary of more than 200 terms, later expanded, and an alphabet.
At first, Nez said, the concern was whether or not the code could work. Then it proved inpenetrable. "The Japanese did everything in their power to break the code but they never did," he said.
Nez no longer remembers the code in its entirety, but easily switches from English to Navajo to repeat one instruction he delivered during fighting on Guadalcanal.
"I always remember this one," Nez said. "'Enemy machine gun on your right flank, destroy!'"
The Navajos trained in radio communications were walking copies of the code. Each message read aloud by a Code Talker was immediatley destroyed.
"When you're involved in the world of cryptology, you not only have to provide information, you have to protect that," said Patrick Weadon, curator of the National Cryptologic Museum. "And there's no better example than the Navajo Code Talkers during World War II."
The Code Talkers were constantly on the move, often from foxhole to foxhole. Nez had a close call in Guam with a sniper's bullet that whizzed past his head and struck a palm tree.
Once while running a message, Nez and his partner were mistaken for Japanese soldiers and were threatened at gunpoint until a Marine lieutenant cleared up the confusion, his son, Michael, said.
"Of course Dad couldn't tell them he was a Code Talker," Nez's son said.
The Code Talkers had orders not to discuss their roles — not during the war and not until their mission was declassified 23 years later.
In 2001 Nez, Dale and June traveled aboard the same plane to Washington, D.C., to receive the Congressional Gold Medal. The recognition, which they didn't receive returning home from war, propelled them to a sort of celebrity status, along with the release of a movie based on the Code Talkers the following year
They appeared on television, rode on floats in parades and were asked to speak to veterans groups and students.
Nez threw the opening pitch at a 2004 Major League Baseball game and blessed the presidential campaign of John Kerry. Oliver traveled with other Code Talkers as guests of honor in the nation's largest Veterans Day parade in New York last year.
When residents of Longmont, Colo., heard that June and his wife did not have a permanent home, they raised money to buy one for the couple.
The last three survivors of the Original 29 don't live on the Navajo Nation, where they are celebrated with a tribal holiday. They wonder about each other, but it's unlikely they'll reunite again.
After World War II, Nez volunteered to serve two more years during the Korean War and retired in 1974 after a 25-year career as a painter at the Veterans hospital in Albuquerque.
June, 88, has spent the past few weeks in and out of hospitals in Wyoming and Arizona, and requires round-the-clock care. His third wife, Virginia, calls herself "the charm" and the protector of an endangered species.
She's a walking promotion for him and the Marine Corps, yet she's careful of how much she says because he thinks it is unwelcomed bragging.
Oliver's wife, Lucille, echoes similar sentiments about her husband. Oliver displayed few reminders in what, until earlier this year, was his home on the Yavapai Indian reservation in Camp Verde, Ariz. — a few framed pictures, a Marine cap above his bedroom window and a U.S. flag above the doorway.
"He just put the past behind him, I guess," she says.
Oliver, 87, speaks audibly but his words are difficult to understand. His hearing is impaired and he prefers not to have a hearing aid.
Both June and Oliver had brothers who later served as Code Talkers.
Nez tells the tourists seeking authographs in Albuquerque that he's part of the Original 29, but few appear to grasp what that means.
"Most of them," he says of the tourists, "they just thank me for what we did."