Teddy Day Sales Flood Stores
By Naiwrita Sinha, Gaea News Network
Thursday, February 10, 2011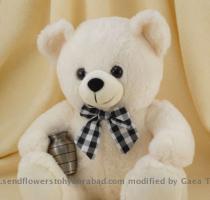 NEW DELHI, INDIA (GaeaTimes.com)- Soft toy galleries are flooded with customers for today is the much awaited Teddy Day when people gift their loved ones teddy bears, the cutest and cuddliest of all toys. With February 10 as the Teddy Day in the Valentine week, shopkeepers are having an extremely busy schedule, for there seems to be no dearth for the demand of the teddy bear. According to market survey reports, this time the maximum demand is for the big ones, the teddies whose height goes as long as seven feet.
Demand for the teddy bear among the girls is the maximum, for the toy is one who has always been a girl child's best friend since her childhood days. While many prefer the small ones over the giant-sized, one which is equivalent to the height of the girl herself is also a craze amongst the teenagers. The men are rushing to the gift stores for the best pick, something that will surely win them praises from their lady love. However, it is not only the men who are thronging the stores but also parents who want to gift their little ones the cuddly soft toys. Mother of a four year old Rajni Dhingra said that she wants to gift her daughter a four feet teddy on this special day.
That the bigger ones are in demand was understood when several college going girls expressed a common opinion saying that it is the dream of every girl to be gifted with the tallest teddy bear on this day. Prices also seems to be at par with the heights. An Archie Gallery spokesperson said that they are selling the seven feet ones for Rs 7,000, while the six feet ones are being sold for Rs 6,000, and a four feet one costs Rs 4,000.