El Camino Real High School Students Return Home
By Tias, Gaea News Network
Thursday, January 20, 2011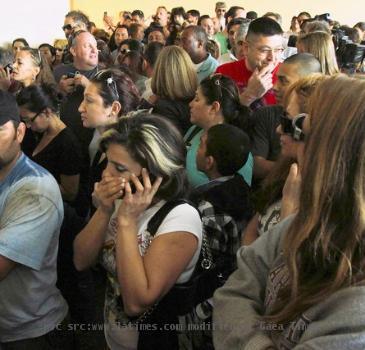 more images
LOS ANGELES (GaeaTimes.com)- Los Angeles police ended their search on Wednesday night for the gunman who shot a school officer Jeff Stenroos in Woodland Hills, near El Camino Real High School. The school authorities tried to reassure the parents, students as well as the residents that the area would be safe. Los Angeles school police Chief Steven Zipperman told reporters at a news conference at a command center at Hale Middle School that it was safe for the students to come back to school. He also assured that the police force would have a very strong presence in and around the school campus.
As it became dark thousands of students came out of El Camino Real High School, that had remained under lock and key since shortly before noon after a police officer was shot by a gunman. Parents waited outside the school anxiously and there were a number of others who said there was confusion during the day and had no idea as to how the students would be released. At one school, parents had to wait for hours on end to pick up their children. At another campus, there were hundreds of students who flooded as the parents had a tough time looking for their sons and daughters. A little before 6 p.m., Maria Gomez, a mother of four kids, broke into a smile as she saw them appear on the street in front of the school. She said that she felt relieved adding that the ordeal was very frightening because the shooting took place just near the school campus.
Her daughter Alisa, 16, studying in El Camino Real High School, said that she spent the day in her chemistry class watching an Indiana Jones movie with the other students. Alisa also said that she felt she was there for two days and was not planning to go to school very soon. Reports say that the entire situation would normalize as and when the schools resume their classes.