Karnataka Rajyotsava celebrated in New Delhi
By ANI
Monday, November 1, 2010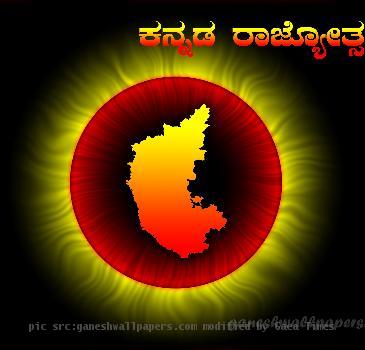 NEW DELHI - A large number of Kannada writers, artists, professors, and academicians celebrated Karnataka Rajyotsava here on Monday.
The Kannada monthly, "Dehali Kannadiga" organized the celebration.
Inaugurating the celebration, M.B Samaga, the editor of the monthly, urged Central Government to clear all pending projects of Karnataka.
He urged the Centre to look into projects such as introduction of "Duranto Express" train between Bangalore and Delhi, immediate implementation of Hubli-Ankola Railway line project, introduction of passenger ship between Mumbai and Mangalore, and to give constitutional recognition to Kodava and Tulu languages of Kannada script.
Samaga suggested that the Karnataka Government should establish a Karnataka Cultural Museum, a common guest house, working women hostel in Delhi and a separate department for the development of Kannada outside the State.
The former chief librarian of Jawaharlal Nehru University (JNU), B.N. Rao, who had presided over the celebration, called upon Kannadigas to develop Kannada land, literature and culture and urged Delhi Government to support Kannada cultural activities in Delhi. (ANI)