Saibaba Telefilms Hosts Iftaar Party For Chhote Ustaads
By VJ, SAMPURN
Tuesday, August 31, 2010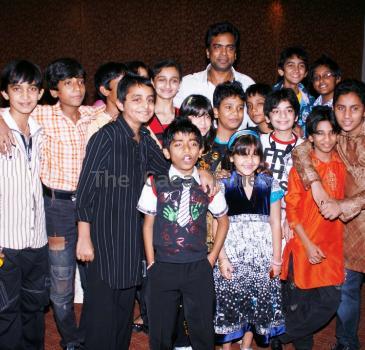 August 31, 2010 (Sampurn Wire): Saibaba Telefilms Pvt Ltd, the television production company, the pioneer of music reality shows in India hosted an 'Iftaar Party' for the Pakistani kids from 'Amul Chhote Ustaad - Do Deshon Ki Ek Awaaz' on Star Plus. Gajendrra Siingh, MD and Chariman, Saibaba Telefilms accompanied by the talented Sonu Niigaam and the Indian contestants came together to convey their greetings for the Holy month of Ramadan.
The occasion held significance for the Pakistani kids, as for the very first time they are celebrating this festival with Indians. Wania Jibraan, one of the Pakistani contestants said, "We would like to thank Saibaba Telefilms for putting this special evening together. This is the first time I am celebrating Ramzan without my family and also my first time in India. I am thankful to the entire team for putting together this amazing atmosphere to make us feel at home."
This season Saibaba Telefilms presents a first – of - its kind singing competition that brings together young talent from India and Pakistan exclusively on 'Amul Chhote Ustaad - Do Deshon Ki Ek Awaaz' on Star Plus. 'Iftaar' being the traditional evening meal when the faithful break their fast during the Holy Month Of Ramadan; the Indian contestants of the show accompany their Pakistani counterparts as they break their fast together.
Speaking about the special occasion, Gajendrra Siingh, MD and Chariman, Saibaba Telefilms said, "We have a strong vision that 'Music Has No Boundaries' and it is this vision that urges us to make better use of the talent, skills and resources that we have from all corners of India and Pakistan to drive greater levels of audience engagement. Pakistan has always been known as a hub for great talent for the entertainment industry and our tie - up with Rahat Fateh Ali Khan in scouting for young talent in the biggest musical reality show is a step in that direction. We are thrilled to be working with a high caliber team of talented music composers, singers and young talent especially on the show which will appeal to viewers of all ages."
He also added, "This month holds special significance for our Pakistani Chhote Ustaads and I am glad we were able to celebrate the occasion with them. With our content expertise, we are confident that this will mark a significant milestone for Indo - Pak relations in the history of the reality television industry. Our aim is to deliver high quality content across geographies."
Chhote Ustaad is created by one of India's most talented music reality format creators, Gajendrra Siingh (Chairman and Creative Director of Saibaba Telefilms). Saibaba Telefilms are currently content partners for Star Plus, Sun TV Network, ETV Network, Star Jalsha, Mahuaa TV and Doordarshan National.
'Amul Chhote Ustaad - Do Deshon Ki Ek Awaaz' airs every Saturday and Sunday at 9.00 pm only on Star Plus.
About Saibaba Telefilms: Saibaba Telefilms Pvt. Ltd. is one of the leading production houses in India today started by Mr. Gajendrra Siingh in November 2006 with the vision to provide new age talent, unique content and to be the largest media company and take Indian talent culture on global front. Saibaba Telefilms is a trend setter of music reality shows and aims to become the leader in the world of entertainment.
Building on the initial momentum company started with the Music reality shows with the expertise of Mr. Siingh in this segment. 'Antakshari' was the first show to be produced by Saibaba Telefilms on Star One. The ladder of achievement and viewership kept moving up with grand shows like 'Voice of India I and II, 'Chotte Ustaad and the recently concluded hit show, 'Music Ka Maha Muqabala' on Star Plus, 'Waar Parivaar' on Sony,' Chak De Bacchhe' and 'Chak De Sheher Di Kudiyan Gali De Gunde' on 9X, 'Junoon' on NDTV Imagine, 'Sur Sangram' on Mahuaa, 'Gaurav Maharashtra Cha' 'on ETV Marathi, 'Bengal Music league' on ETV Bangla and 'Bharat Ki Shaan' on Doordarshan. Saibaba Telefilms created market leadership and dominant presence in the field of reality shows and has now stepped into fiction shows.
Saibaba has also produced content in the comedy genre like 'Laughter Express', 'Grih Laxmi and 'Dance Sangram' on Mahua and 'Laugha Laughi' on ETV Bangla and has created market leadership and dominant presence in the field of reality shows. Saibaba Telefilms has also stepped into fiction with popular shows like 'Baidki Malkain' on Mahua and 'Luka Chori' on ETV Bangla.
The love for music led Saibaba Telefilms to start its own music academy – SA Re Ga Ma Pa Dha Ni SA on 21 August, 2007. The academy has been a dream for Mr. Siingh and he feels this unique academy gives a platform to budding talent.
About Chhote Ustaad
'Chhote Ustaad' brings a new format in music reality shows in India, which is based on teams rather than individuals. Highlighting each team's unique personalities and exceptional talents, 'Chhote Ustaad' is an exhilarating breath of fresh air in the increasingly "seen – it – all - before" realm of reality TV. Ten singing talents each from India and Pakistan have been chosen through different rounds of auditions from each corner of the two countries by music maestros Sonu Niigaam and Rahat Fateh Ali Khan. All the kids are formed into pairs of one each from both countries. Over a period of thirteen weeks these twenty kids perform for the coveted title of 'Chhote Ustaads' of the subcontinent. Produced on an unprecedented scale, the shows seek to search for and promote the best of musical talent in India and Pakistan.
–Sampurn Wire