Top 10 Amateur Digital Cameras for 2010
By debashis, Gaea News Network
Saturday, February 6, 2010
Since the dawn of the era of digital cameras, they have always remained hot favorites for gadget-lovers around the world. But in the past decade or so, as they become more and more inexpensive, the not-so-geeky ones have also got inquisitively interested to this wonder and dream to own one. Are you one of those, planning to buy a digital camera this year, but cannot single out the best option? Then this roundup may help you in your quest to pick the best of the lot.
1. Canon
This digital camera with high-power zooming capability will give you extensive creative freedom. The Canon PowerShot SX200 IS is a new 12 megapixel, 12x zoom compact digital camera offering a versatile focal range of 28-336 mm and full range of shooting modes for both beginners and experienced amateurs alike. It sports a large LCD screen of 3″ and has the ability to capture 720p HD movies. The SX200 IS will be your ideal do-it-all, take-everywhere companion.
2. Panasonic Lumix DMC-TZ7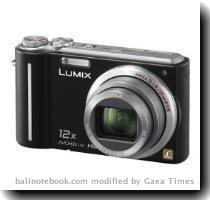 The Panasonic Lumix DMC-TZ7, though a couple of months old by now, is still very much recommended for the wannabe amateur photographer. Sporting a 12x, 25-300 mm lens with optical image stabilisation, 3 inch LCD screen, 720p HD movies and 10 megapixels, the Panasonic TZ7 promises to be the ultimate do-it-all pocket camera. It is available in silver, black, brown, blue and red
3. Casio EXILIM EX-FH100
Are you an avid sports-lover and want to capture those memorable moments with your own digicam? For serious/wannabe sports photographers, the EXILIM EX-FH100 high-speed camera offers users a maximum burst rate of 40 shots per second and 1,000 fps for high-speed video recording. Other features include the ability to capture 10.1 megapixel images, a wide-angle 24mm 10x optical zoom lens, a 3.0-inch LCD display, and a mini HDMI output for easy video transfer.
4. Olympus E-P1
The Olympus E-P1 is a new kind of digital camera that promises to offer DSLR image quality in an ultra-compact format. The Olympus EP1 features a 12.3 megapixel DSLR sensor in a mirror-less, metal body complete with interchangeable lenses and built-in image stabilisation. It's compatible with all Micro Four Thirds lenses and, via adapters, existing Four Thirds and OM lenses. The new TruePic V image processor at the heart of the E-P1 provides fast operation, ISO speeds up to 6400, RAW format support, and the same Art Filters found on the Olympus E-30 and E-620 DSLRs. The EP1 can also record HD 720p quality video with continuous auto-focus and control over depth of field. A 3 inch LCD screen, 3fps continuous shooting, Supersonic Wave Filter dust reduction system, etc. are E-P1's headline specs.
5. Ricoh GR Digital III
Ricoh has launched superbly thought-out 10 megapixel camera- the GR Digital III. With a brand new lens, sensor, image processing engine and LCD screen, plus a number of other innovative features, the GR Digital III is really a worthy upgrade from the earlier GR Digital II . Wonderful image quality with noise levels at ISO 200 on the GR Digital III with the faster f/1.9 lens and the new Dynamic Range option makes this camera very effective even in low-light conditions, either hand-held or with the use of a tripod.
6.
The Nikon Coolpix P90 is another super-zoom camera, offering a 24x optical lens with a 26-624mm focal length. Nikon's Vibration Reduction image stabilisation system helps to avoid the inevitable effects of camera-shake when using the longer focal lengths or in low-light, while the P90's new 3 inch tilting LCD screen makes image composition more versatile. Other key features include a 1cm macro mode, electronic viewfinder, PASM shooting modes, and an extensive ISO range of 64-6400.
7. Panasonic Lumix DMC-FT2
The Panasonic Lumix DMC-FT2 (also known as the DMC-TS2) is a new robust digital camera that is waterproof to 33 feet (10m), shockproof from a height of up to 10 feet (2m), freezeproof to 14 F (-10 C) and dustproof. A protective silicon jacket is included in the box to help protect the DMC-FT2's exterior from scratches. The Panasonic FT2 also offers a 14.1 megapixel sensor, fast Sonic Speed auto-focus system, a shutter release time lag of just 0.005 second and a thicker cover panel for the LCD screen. Other key features include a 28mm wide-angle 4.6x optical zoom lens, a 2.7-inch LCD screen, high-definition movies, and new High Dynamic and Happy modes. The Panasonic FT2 / TS2 will be available in silver, blue, orange and yellow.
8. Canon PowerShot G11
The Canon PowerShot G11 is the newest member of Canon's serious compact camera range. It is aimed at those amateurs who want DSLR functionality without the added bulk. With 10 megapixels, Canon targets image quality with the combination of this new "high-sensitivity sensor" and the DIGIC 4 image processor. According to Canon, this has resulted in a 2-stop increase in image quality compared to its predecessor G10, at least with an ISO range of 80-3200 and faster 6400 and 12800 settings at 2.5 megapixels. The G11's LCD monitor is a vari-angle screen of size 2.8 inches. Other key highlights of the Canon G11 include the 5x, 28-140mm zoom lens, RAW shooting mode, optical image stabilizer to help combat camera-shake, optical viewfinder, flash hotshoe, 1cm macro mode, and full range of manual shooting modes.
9. Fujifilm Finepix S200EXR
The Fujifilm Finepix S200EXR is a new super-zoom camera with a 14.3x, 30.5mm-436mm zoom lens, primarily aimed at those amateurs who want a DSLR experience without the cost and bulk of a true DSLR system. The innovative EXR technology, present in it essentially turns three kinds of camera in one, with one mode capturing the highest resolution possible, another the lowest noise, and the third the best dynamic range, with the camera also able to automatically choose the most suitable for the current scene. Other standout features include new Pro Focus Mode and Pro Low-light modes which take advantage of the S200EXR's multi-frame technology, built-in image stabilisation, 12 megapixel sensor, 2.7-inch LCD screen, electronic viewfinder, ISO range of 100-12,800, full range of creative shooting modes and the ability to shoot both a RAW and JPEG shot simultaneously.
10. Sony Cyber-shot DSC-HX1
The Sony Cyber-shot DSC-HX1 is an innovative super-zoom compact camera, offering a 20x optical zoom range (28-560mm) and a G branded lens that was originally developed for the Sony Alpha DSLR family. The 9 megapixel Sony HX1 features a new Sony-developed Exmor CMOS sensor which promises to deliver outstanding images with reduced noise, and the powerful BIONZ image processor supports full-resolution shooting at a remarkable 10 frames per second. Other standout highlights include 1080/30p HD movies, a 3.0 inch tilt-angle LCD screen, and a new Sweep Panorama mode which captures extra-wide landscapes easily and quickly.