Snow In 49 States Out Of 50
By Tias, Gaea News Network
Thursday, January 13, 2011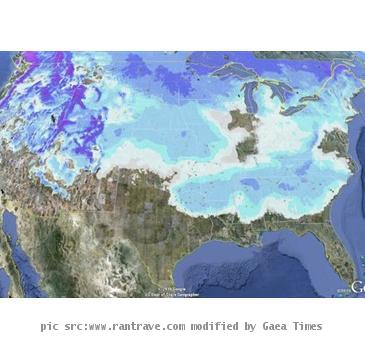 more images
LOS ANGELES (GaeaTimes.com)- Wednesday was a memorable day for National Weather Service. The service recorded something that they did not do for years. Snow in 49 out of the 50 states in the country was recorded on Wednesday. It came as a surprise for the National Weather Service all the more when even Hawaii recorded snow on the ground. the only exception was Florida. This is the only state that did not record snow. Other than this, the national Weather Service estimated that nearly 70.9% of the country was covered by snow.
James Peronto, the public affairs officer of the National Weather Service reported that it was it was not typical to have that kind of a weather. To have snow in the states of the Rockies Mountain or in the Northeastern states is quite natural. However, it was surprising that even the southern states recorded snow this season. This season, the NWS recorded that the top of the dormant volcano, Mauna Kea in Hawaii, was covered with 7 inches snow. James Peronto said that such a weather condition does not really bring snow to the southern states. It requires for a particular type of weather to bring snowfall to those states. David Robinson, the state climatologist of New Jersey and a professor at Rutgers University said that the eastern states do get snowfall during this time because of the air currents over the Pacific Ocean. It became almost difficult for the National Weather Service to believe that there had been snow in 49 out of 50 states in the country.
Snow in 49 out of 50 states, of over 6 inches above the ground was recorded in southern Tennessee, northern Mississippi, southern Arkansas, northern Georgia as well as northern Alabama. on an average, the amount of snow accumulated on the ground all over the country was 1 foot. In addition, there was notable accumulation of rain and sleet far south in areas of southern Alabama as well as southern Georgia.