USS Enterprise Video Under Scanner
By Madhusmita, Gaea News Network
Monday, January 3, 2011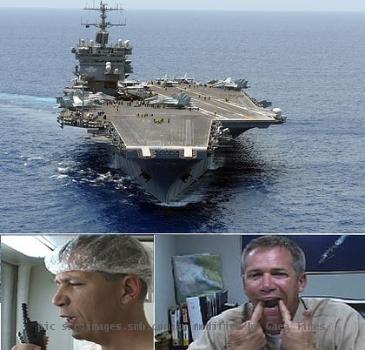 more images
WASHINGTON (GaeaTimes.com)- US Navy has opened an investigation which shows series of racy videos with anti-gay remarks which were produced and shown to the USS Enterprise aircraft video. The commander of the aircraft, Captain Owen Honors has come under scanner for letting his crew watch the video; however, he said that he showed those videos consisting of scenes with masturbation, service members bathing together for laughs! A reputed media source posted the videos on YouTube and Navy spokesman Cmdr. Chris Sims said that those videos were completely "inappropriate".
The media portals reported that those videos were shown to the 6,000 crew members in 2006 and 2007 and at that time Owen Honors was number two officer of the ship. In the introduction of the video, the former commander of the aircraft USS Enterprise is heard saying that video that he is going to show would offend many people on the ship. The Navy officials said that those videos were not meant to offend anyone. However, they also said that they are investigating about the whole matter. The Navy released a statement stating that the videos were intended to be "humorous skits" to get the crew's attention on certain issues.
In the statement, it was also stated that U.S. Fleet Forces has launched an investigation surrounding the production of such videos and these kinds of videos were not acceptable at that time and it is not acceptable now a days as well. The Navy officials said that Navy does not "condone" or "endorse" these kinds of videos. In the USS Enterprise's videos, Owen Honors jokes about the fact that his senior officers were unaware of the content of the video.