Winter Solstice Coincides With Lunar Eclipse
By Madhusmita, Gaea News Network
Monday, December 20, 2010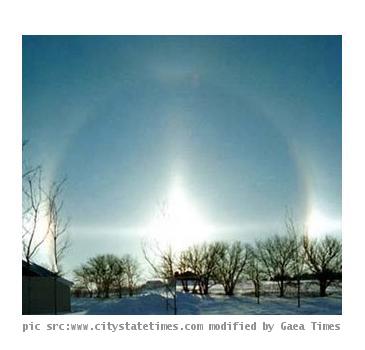 more images
SAN FRANCISCO (GaeaTimes.com)- NASA experts say that after 456 years Lunar Eclipse and Winter Solstice are going to coincide with each other this year. The sky-gazers are all geared up to see the rare occasion which is scheduled to take place, early Tuesday. The experts say that Winter Solstice is the shortest day in the year and it marks the beginning of winter season in Northern Hemisphere.
Winter Solstice and Lunar Eclipse together is one of the rarest events in the history of eclipses. The people of North America are all geared up to witness this event and on the day of Winter Solstice the full moon is going to pass through Earth's shadow cone at around 6:32 am. The NASA experts say that Lunar Eclipse is going to be run for three and half hours. However, the reports of National Weather Service also stated that clouds might surface on the sky and it would hamper the visibility of the gazers.
The astronomical spectacle will only be visible to the people of North America, Iceland and on Greenland. On the other hand, when there will be shortest day in Northern Hemisphere owing to Winter Solstice, it would be the longest day in Southern Hemisphere, the flip side. British Astronomical Association's official John Mason said that if the weather condition is perfect then the people can start watching the celestial treaty from 6:30 am in the morning and continue watching it till 7:40 am. Fred Espenak, the NASA eclipse expert said that the people residing in Western Europe will be able to witness the beginning stages and people residing in the western Asia will be able to see the later stages of the eclipse.