Sonja Kohn Under Fire
By Tias, Gaea News Network
Saturday, December 11, 2010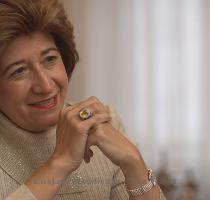 more images
NEW YORK (GaeaTimes.com)- It looks like Irving Picard has hit the jackpot with a lawsuit filed against Bernie Madoff's evil twin/criminal soul mate, Sonja Kohn. The orthodox Jew and founder of the Medici Bank has been outed by the New York lawyer who has claimed that Sonja Kohn has over the years helped feed Bernie Madoff's notorious Ponzi scheme which robbed billions off investors.
The suit claims that Sonja Kohn has used her relation with Bernie Madoff to feed the billions into his scheme and thus benefited greatly from it. The federal law for racketeering will triple the damages of $19.6 billion against Sonja Kohn and thus claim $58.8 billion from the 62 year old. Irving Picard has also named 2 dozen other accomplices in his effort to recover the billions that were swindled by Bernie Madoff. The case against her has been filed at the Manhattan federal bankruptcy court.
Sonja Kohn is an orthodox Jew who is known for her signature red wig. She met Bernie Madoff back in 1985 and has worked with him for the last 20 years. Bernie Madoff is presently serving his 150 years sentence in prison. Irving Picard has so far recovered a mere $2.6 billion out of the $65 billion swindled by the scamster. He has also claimed a settlement with the Jewish women's organization called Hadassah which has agreed to pay $45 million for the compensation of the victims of the Ponzi scheme of Bernie Madoff. Irving Picard, however, has not been too popular with all the victims of Bernie Madoff as some have claimed that they were targeted in spite of being victims of the Ponzi scheme.