Missile Strike Kills Militants In Pakistan
By Arnab Ghosh, Gaea News Network
Tuesday, November 16, 2010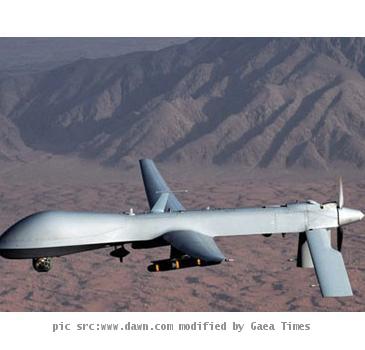 more images
MIRANSHAH, NORTH WAZIRISTAN (GaeaTimes.com)- In a recent development that has made sensation in International communities, US drone aircrafts fired a number of missiles in Pakistan's North Waziristan which is considered to be a big den for the Taliban and AlQaida militants. The regional officials said that the attacks killed at least 20 suspected insurgents on Tuesday. The missiles fired by the unmanned US Air drones had hit a compound resembling a fortress and a car near the Ghulam Khan village adjacent to the Afghan border. A local intelligence official said that the militants who were hit and killed were walking and they just came back from Afghanistan. A media entity later reported that the strike was actually meant for the insurgents on the Afghan side.
In recent times the USA has resorted to missiles fired with unmanned drones. The US army rarely takes up responsibility for such attacks. As a matter of fact the attack on Tuesday was the eighth one this month. The majority of the missile attacks by US drones have targeted North Waziristan, a mountainous border region infested with extremist Islamic outfits commandos. The identity of those who died at the attack are yet to be known but the local officials are trying their level best.
It is evident that the USA has become desperate in its attempt to restrain the Islamic militants based on Afghan Pakistan border and the increased missile attacks in the border region bears testimony to the fact. Islamabad is not too willing to launch a full fledged attack on the militants located at North Waziristan which has prompted USA to raise the offensive.