Robert Louis Stevenson Doodle Made By Google
By Arnab Ghosh, Gaea News Network
Saturday, November 13, 2010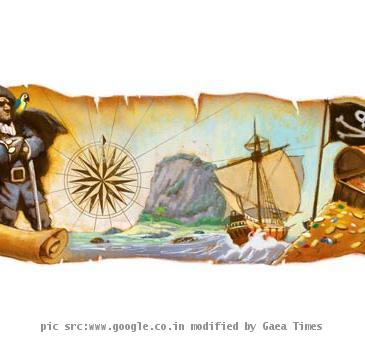 more images
CALIFORNIA (GaeaTimes.com)- Google Inc - the leading Internet search provider headquartered at California has changed its logo yet again. However, this change is temporary and it is a doodle! The avid users of Google are well aware that the company keeps changing its logo from time to time on specific dates and occasions. The latest doodle from Google is meant for remembering the famous Scottish novelist Robert Louis Balfour Stevenson. The doodle in fact refers to the novelist's masterpiece novel Treasure Island. Of course Google has not made the new doodle without a specific cause. Today is the 160th birthday of the novelist.
Google never ceases to amuse its users with new doodles which are still and animated images on the birthday or anniversary of certain celebrities and personalities. Apart from that Google also pays homage to landmark events in technology and computer industry by making Doodles at times. The PacMan doodle it made created sensation among the users all over the world. These doodles however are not displayed on Google homepage for a long period. They stay there for a day. The doodle related to author Robert Louis Stevenson shows the images of sea,a pirate ship, gold and treasures, a pirate and compass- in short all the elements one can find in the novel Treasure Island.
Robert Louis Stevenson is known for his novels of adventure and suspense. Treasure Island first published in 1883 remains one of the most popular adventure novels of all times. The author also earned fame for his celebrated works like the Strange Case of Dr Jekyll and Mr Hyde.