Qantas Jet Lands In Singapore
By Arnab Ghosh, Gaea News Network
Thursday, November 4, 2010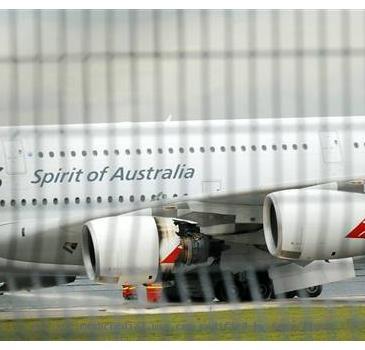 more images
SINGAPORE (GaeaTimes.com)- A 380 Jetliner of Qantas the Australian airline, made an Emergency landing in Singapore today after of its engines developed a technical snag. The aircraft had 459 people on board and the pilots did not want to take any chance. Qantas said in its statement that the aircraft had 26 crew members along with 433 passengers. However, it is not known if the engine snag was caused by the eruption of Mount Merapi that has stalled flight operations in and around Indonesia in recent times. The engine malfunction took place just 15 minutes after the flight took off from Singapore. It was headed for Sydney in Australia as reports have said.
Qantas also said that when the pilot was informed that one of the aircraft's 4 engines was malfunctioning he asked for priority clearance and an emergency landing in Singapore. The witnesses in Singapore's Changi International airport said that smoke was coming out of the underside of the plane. Six fire engines were kept ready at the airport and they surrounded the plane after the pilot made a safe landing at the airport. A spokesperson for Qantas said that the aircraft could fly with the three other engines that were functioning perfectly but the pilot chose to be on the safe side.
The eyewitnesses said that Qantas flight was hit with an explosion and after that debris started falling from it. However, no passengers or crew members were injured. The airline will start a probe to find out what led to the engine snag it said. The airline never faced any fatal accident since its inception.