Wife of Japan's prime minister questions his leadership skills in blunt, playful new book
By Shino Yuasa, AP
Friday, July 23, 2010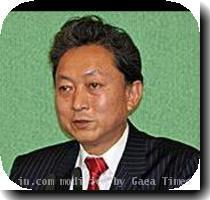 more images
Japan PM's wife criticizes him in new book
TOKYO — In a new book, the wife of Japan's Prime Minister Naoto Kan questions whether he is fit for the nation's top job and suggests his tenure might be short-lived.
In "You are Prime Minister, So What Will Change in Japan?" which was released this week, first lady Nobuko Kan lists a host of her husband's shortcomings, from his failure to do any housework to his hot temper.
But it also depicts the premier, who took the job in June, as a caring father of two sons. And when he speaks spontaneously, he can be inspiring, she says. But not when he reads his speeches.
Kan, 63, has often called his wife "the opposition at home." Asked by reporters about the book, Kan said he was too scared to read it.
The book comes as Kan struggles to revive sagging public support after his ruling party suffered a heavy defeat in upper house elections two weeks ago. That result heightened speculation he could join the conveyor belt of recent Japanese prime ministers who have tried to revive the country's flagging economy, and been ditched in short order.
The book chronicles highlights and lowlights in the couple's 40-year marriage, and the criticism appears to be made in the playful manner in which some middle-aged Japanese couples will chide or even put down each another in public. That's partly because Japanese culture encourages a deprecating humility about members of one's family or ones belongings, while praising one's neighbors.
But it is virtually unprecedented for a Japanese first lady to speak so bluntly.
Nobuko says her husband became prime minister "by chance" and that it felt "unreal" he had the position.
"I cannot help feeling a sense of wrongness" about Kan being prime minister, she said. "Since I've known him so well, I ask myself whether this person is right for prime minister."
She even suggests that Kan's tenure as leader might be short-lived: When the first couple moved into the prime minister's residence, Nobuko only brought summer clothes.
"Depending on the outcome of September's party election, we may have to quickly pack up and leave," she said.
Kan is Japan's sixth prime minister in four years. His ruling party — the Democratic Party of Japan — will hold a leadership election in September. As the party controls a majority of the more powerful lower house of parliament, the new party chief will almost certainly become Japan's next prime minister.
Nobuko's comments stand in stark contrast with those of the previous first lady, Miyuki Hatoyama, who lavishly praised her husband, former Prime Minister Yukio Hatoyama — who also was unusually complimentary about his wife in public.
Publisher Gentosha Inc. said Friday the book was selling fast. It has so far printed 60,000 copies.