Abby Sunderland Hopes To Go Again
By Priyanka Roy Chowdhury, Gaea News Network
Monday, June 14, 2010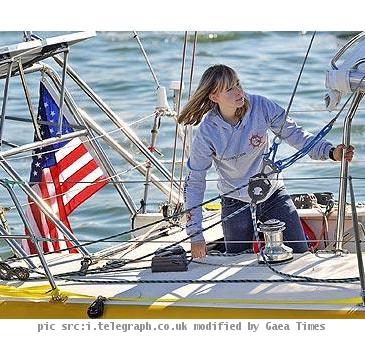 more images
SACRAMENTO (GaeaTimes.com)- 16-year-old sailor Abby Sunderland who was recently rescued after being stranded on the Indian Ocean for around 48 hours has said to media sources that she would like to give her dream yet another chance. She had said to media sources that she does not fear the sea. An enthusiastic Abby Sunderland insisted "I'm definitely going to sail around the world again, or at least give it another try". However, the girl is not sure when she will get another such golden opportunity to sail around the world on her own.
Abby Sunderland mentioned that it has been her dream for years to sail around the world and that she wants to go on the sea expedition again. As for the crisis that she faced in the ocean, Abby Sunderland maintains that though it was bad, it has nothing to do with her age or time of the year as many have voiced. The teenager wrote in her blog post that though people can continue blaming her age for the situation she was in, Abby Sunderland says that the truth is that she was in the middle of an ocean storm and that such storms are part of the voyage when one decides to sail around the world.
American Abby Sunderland had set out on the voyage to break the record set by Australian Jessica Watson recently. If she would have been able to complete her journey around the world, then Abby Sunderland would have become the youngest sailor to go around the world solo. However, failing in her first attempt, she is now facing criticisms from many people who have questioned her decision to venture into the southern Indian Ocean during winter.