Congress, BJP slam Mayawati for accepting another lavish garland
By ANI
Wednesday, March 17, 2010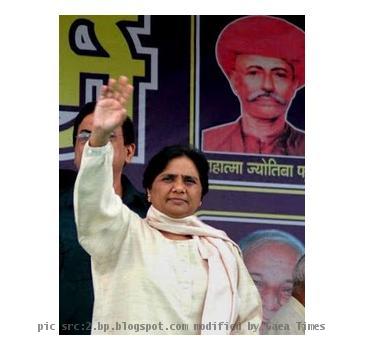 LUCKNOW - The Congress and the BJP have strongly criticized the presentation of another multi-million-rupee garland made of banknotes to Uttar Pradesh Chief Minister Mayawati.
BSP leaders presented a 1.8-million-rupees garland - comprising notes of various denominations - to Mayawati at a party meeting in Lucknow on Wednesday.
"The brazen display of the wealth, ill-gotten wealth by the Chief Minister of Uttar Pradesh, who holds a public office, is something Congress party would fight politically. We shall go to the people and tell them that how the government funds are being siphoned off for her party work and for own personal use," senior Congress leader Digvijay Singh said.
"The property she acquired in her name and in the name of her family members is something we will make public. We will go to the people and convince them that she is only concerned about the daulat (wealth) and not concerned about Dalits (low caste)," Singh added.
Meanwhie, BJP spokesperson Ravi Shankar Prasad also slammed Mayawati for wasting the public money.
"We are pained. Democracy goes with public, civil accountability as well, but the brazen manner in which it is being said that we shall continue to give it, is an open violation of basic democratic norms," Prasad said.
Mayawati was presented a similar garland made of 1,000-rupee bills, worth millions at a massive party rally on Monday, prompting an outcry by opposition.
Opponents of Mayawati have claimed that the BSP supremo spent over 40 million dollars to ferry her party's supporters in buses from the countryside to fill up an 80-acre ground that was ecorated with flowers. (ANI)