Bharat Bandh Tomorrow To Cripple Life
By Arnab Ghosh, Gaea News Network
Monday, September 6, 2010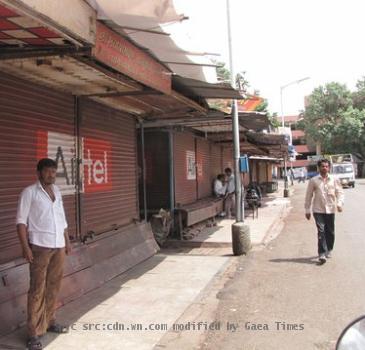 more images
DELHI, INDIA (GaeaTimes.com)- Tomorrow's transport strike which can almost be equated with a Bharat Bandh is likely to cripple the city life tomorrow. A number of trade unions are backing this trade strike and the common man will end up bearing the brunt of it. The office goers will find it an ordeal to reach their workplaces as only trains will be exempted from the strike. While some political parties are against the bandh, the bandh supporters are finding backers in various other organizations. The September 7 strike is being supported by the All-India Bank Employees Association to protest against the hike in price of essential commodities. They are also up in arms against the facilities being given to the private banks in the country.
It has been reported that the employees working in 18 foreign banks, 82 regional rural banks, 26 private banks and 27 public sector banks will support the Bharat Bandh. Even the workers of more than 1720 cooperative banks will participate in the strike. What this means is that the common man will suffer and banking activities all over the country will come to a standstill. The AIBEA has also demanded expansion of the network of the public sector banks.
In another development, INTUC the trade union wing of Congress has found support in the UPA chairperson Sonia Gandhi. The veteran political leader said that she will discuss the needs and demands of the workers with the Prime minister of India Manmohan Singh. Pranab Mukherjee the Union finance minister talked to G. Sanjeeva Reddy the INTUC president about the Bharat bandh.