Van Gogh Painting Still Missing
By Swatilekha Paul, Gaea News Network
Sunday, August 22, 2010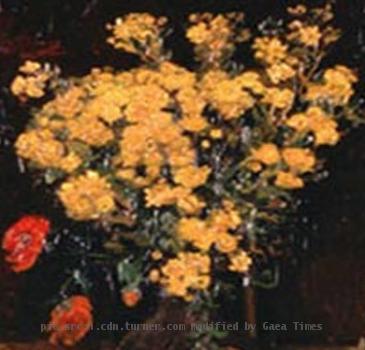 more images
CAIRO, EGYPT (GaeaTimes.com)- The search for a Van Gogh painting which was stolen by thieves from Cairo museum is still on, authorities have confirmed. After the painting which is known as "Poppy Flowers" was found to be missing, multiple source has reported that it had been recovered by the Egyptian authorities nabbed two people in relation to the case in the international airport in Cairo as they were attempting to flee the country. However, later it has been validated that the earlier reports were unconfirmed and officials are still in the search for the famed Van Gogh painting.
Farouk Hosni who is the culture minister of Egypt had earlier told the media that the "Poppy Flowers" painting has been found after an Italian couple were taken into custody at the Cairo International Airport. However, later in a statement that was issued the Egyptian culture minister that the search to find the missing Van Gogh painting is still on and all the necessary steps are being taken by the authorities to ensure that its whereabouts are ultimately found. While revealing details of the incident, Farouk Hosni added that the famous painting was cut out from its frame by the thieves while it was kept at the Mahmoud Khalil Museum in the city of Cairo.
Nevertheless, this is not the first time that the Van Gogh creation has been stolen as it also went missing way back in the year 1978 and it made its way to Kuwait where it was found two years later. The beautiful creation is estimated to be worth a whopping $50 million.