Kargil War Remembered
By Sayanee, Gaea News Network
Monday, July 26, 2010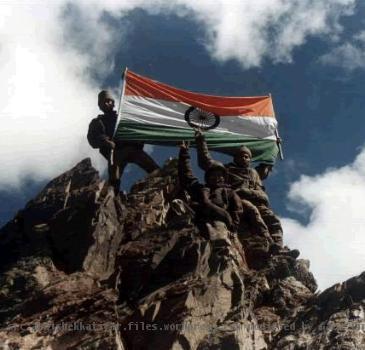 more images
CHANDIGARH, INDIA (GaeaTimes.com)- Its been eleven years that the Indian and Pakistan Army engaged in the Kargil War to establish their hold over the state of Jammu and Kashmir, and the family members of the dead have still not gotten over the horror of the war. Dr. N. K. Kalia, living in the beautiful tea gardens of the Palampur district cannot forget the day when his son's dead body was handed over to him back in June, 1999.
Captain Saurabh Kalia, a mere young man then was one of the victims of the Kargil War. He along with five other soldiers were killed in the War and though the family of the young man has been advocating for justice since then, the governments of both India and Pakistan do not seem to be much bothered. It had been reported that Captain Saurabh Kalia and five others from the Indian Army were being held by the Pakistan authorities and were also subjected to extreme torture during their captivity in Pakistan. It was this brutal behavior on the part of the Pakistan Army which ultimately led to their deaths after remaining locked for almost a month in an alien land.
Autopsy which was conducted after the body of the Captain was returned to India from the site of the Kargil War pointed to the fact that it had been an assault which had led to death. Though the Indian government had earlier promised that the case would be registered under the violation of human rights, more than a decade has passed without any action being taken in this regard, the families have also lost all hope.